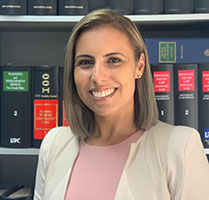 Conveyancer
Maryanne Medrzejewski has been working exclusively in Property Law since 2000. Maryanne obtained her Conveyancing Licence in 2005 after having completed a Diploma in Paralegal and Conveyancing Law & Practice at Macquarie University. She is a Justice of the Peace and a member of the Australian Institute of Conveyancers.
Maryanne provides you with the peace of mind, when selling or purchasing real estate, knowing that you are dealing with a Conveyancer with the most up to date credentials. You are sure to receive a professional and friendly personalized service from Maryanne, for all your conveyancing needs.
Maryanne's traits of being a logical thinker, who works well in a team, enables her to co-ordinate the conveyancing process with ease.
Should you have any inquiries please do not hesitate to contact Maryanne at [email protected]